Steps to Selling your Home
Determining market value
What's your home worth? For most sellers, this is the most important question you will have before putting your home on the market. An experienced agent can prepare a comparative market analysis (CMA) to determine how your home stacks up to similar homes that have sold recently in your area. From there, your agent will consider additional factors - how soon do you need to move? What are the current market conditions? How does the condition of your home compare to similar homes in the area? Answers to these questions vary by situation. A good agent will take the time to explain their CMA findings, and help you determine an accurate listing price for your home.
Experience is key
Having an experienced listing agent on your team is the key to a successful home sale. The home selling process can present many challenges if your agent is not familiar with the entire listing, marketing, and selling process. A skilled Realtor will take the time to preview your home to discuss any repair or updating projects that should be completed before listing day. They will also develop a detailed marketing plan designed to help you meet your home selling objectives. Preview our listing e-book (below) for an in-depth look at the marketing tools and resources we offer to market your home.
Get maximum exposure
Placing a for sale sign in your yard will let your neighbors know that your home is for sale. But chances are, your neighbors aren't interested in purchasing your home. Your buyer could come from anywhere. At TheMLSonline, we showcase your home to millions of active local home buyers and syndicate your listing to Trulia, Zillow, Realtor.com & Craigslist to name a few, so there's a chance we may have a buyer for your home already!
Get some closure
In order to close the sale of your home, lots of moving parts need to come together at the same time. In addition to packing your belongings and preparing for moving day, a seller will need to begin gathering information for their their title company. This includes information such as current loan payoffs, assessment balances, or equity lines of credit. Oftentimes a buyer will ask a seller to make repairs to the home prior to closing. If your buyer is using non-conventional financing such as FHA, additional code compliant repairs may also be required as a condition of funding your buyer's loan. There are many things that can delay your closing, and no two transactions are exactly alike. That's why it's important to work with an experienced Realtor will work closely with you to help ensure a successful closing.
We're on your side
TheMLSonline's team of local Realtors has helped thousands of local home buyers and sellers! Connect with us today, and we'll help you reach today's active online buyers with a comprehensive marketing plan designed to get your home sold fast, and for it's highest possible price!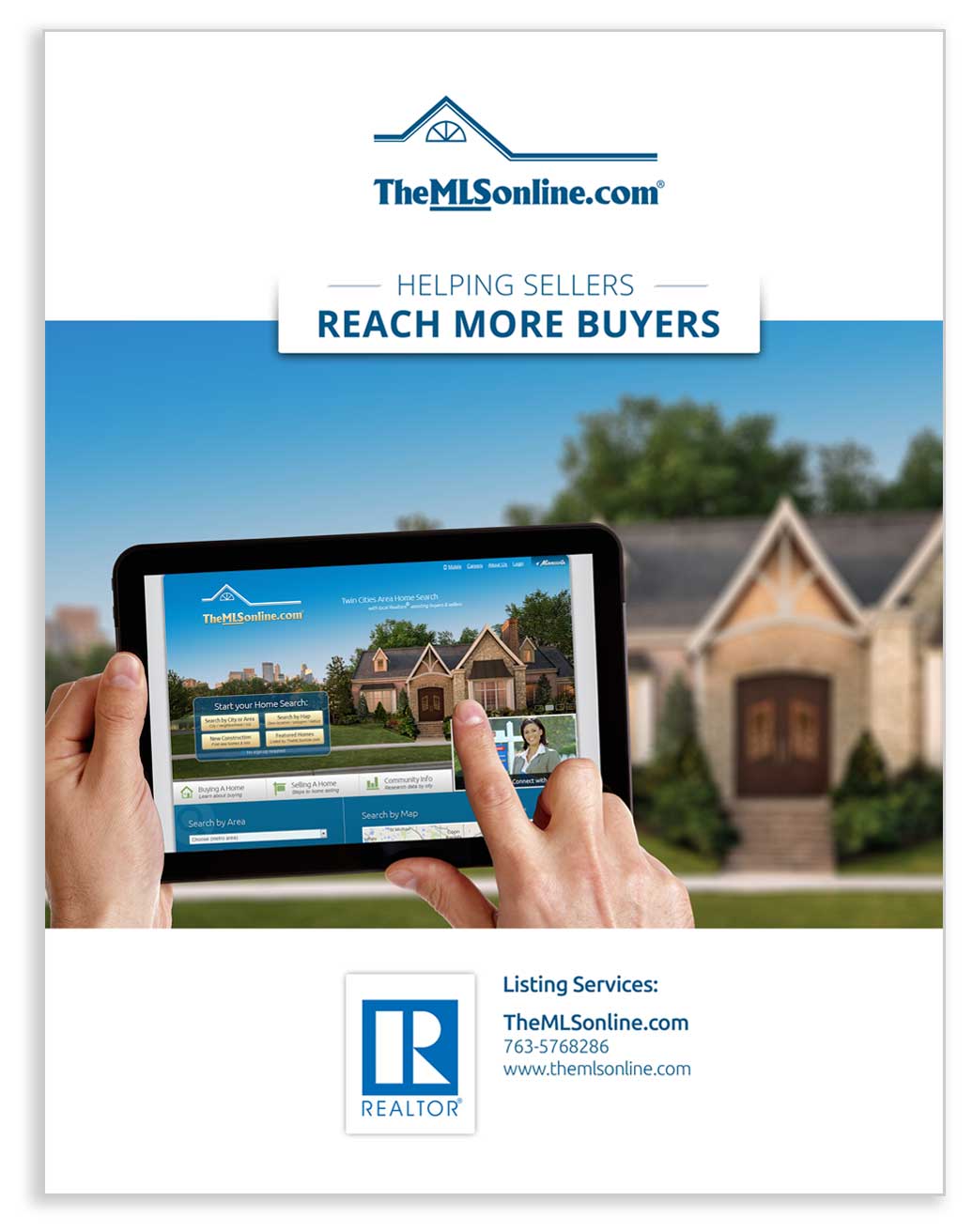 View sample
Listing Booklet
TheMLSonline's listing booklet is a comprehensive guide to selling your home. Understanding the selling process, as well as the tools and resources behind the strategy, can help you stay engaged and informed throughout the selling process. We know that a detailed marketing strategy which includes reaching today's online home buyers, and showing your home in it's best light are your keys to a successful sale.
If you have a home to sell, fill out the form on this page. We'll recommend an experienced listing agent in your area who can provide a comparative market analysis (CMA) and discuss your specific selling situation.
Free Home Analysis!
By clicking "Get My Free Analysis" above, I agree that TheMLSonline may call or text me at any telephone number (including a mobile telephone number) that I provide and may use an automated telephone dialing system or similar device, or a prerecorded message, to offer me products and services. Message and data rates may apply. I understand I may opt out of text messages at any time by replying "STOP". I agree that TheMLSonline may call or text me even if my telephone number is listed on the national and/or state do-not-call registry. I understand that I am not required to provide consent as a condition of receiving or purchasing goods or services from TheMLSonline. I also agree to TheMLSonline
Terms of Use
&
Privacy Policy
.
TheMLSonline website contains advertisements and endorsements of affiliated industry service providers including: mortgage lenders, staging services, home inspectors, title companies and moving services. TheMLSonline may receive compensation as a result of these advertising and marketing agreements. As a client of TheMLSonline you have the right to select a service provider of your choosing and are not required to seek the assistance from any advertiser or affiliate of TheMLSonline.
Thank You
Your request has been received! Someone will contact you soon.