Make a Fabulous First Impression

4 Tips for Effective Staging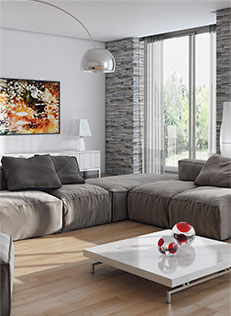 Most home sellers have two primary goals in mind: selling their home for the highest possible price, and selling as quickly as possible. Many factors influence the degree of success home sellers experience. Some factors are beyond the control of the home seller – such as local market conditions and competing inventory. But one factor - how your home is presented - is perfectly within your control. Taking time to make your home appealing to home shoppers increases the chances of a quick and successful sale.
Here are a few things you can do with minimal financial investment:
1) Start by De-cluttering
Homes with too much "stuff" do not show well. As a seller it's important to put yourself in the buyer's shoes and take the time to look at each room, including the closets and cabinets. Now is the time to remove anything you don't absolutely need to function while your home is on the market. Do not overlook the garage or basement. Buyers have a hard time looking past the clutter; they need space to imagine how their belongings will fit in the space. Start by separating your belongings into categories: toss, donate, store, and keep. If necessary, rent a storage unit for items you plan to move to your new home. Remove personal items such as photos, nick-nacks, and trophies.
2) Make Necessary Repairs
Start a list and do the small fixes first. If there are bigger projects that need to be done, consider hiring a professional. If painting is on your list of to-dos, use neutral colors whenever possible so that your home will appeal to the largest audience of potential buyers. Replace bathroom rugs, put in bright bulbs, and fix squeaky hinges. Swap out any broken fixtures.
3) Clean, Clean, Clean
This may be a good time to consider hiring a professional cleaning service to help make your home shine. Wash windows, steam clean carpets, pressure wash the siding and deck. Buyers love clean bathrooms and kitchens so make sure all of your fixtures and appliances are gleaming. Keep your home in show condition each day. Make the beds, hang up towels, keep tables and countertops neat and clean. A showing request can come in anytime, so you need to be ready.
4) Take Care of Little Things
Things like unpleasant odors can send your buyers right back out the door. Using mildly scented candles or flowers can boost a home's charm, and do not underestimate the appeal of fresh air. Don't try to cover bad odors with air fresheners, but rather clean whatever is causing the smell. Open the windows and air out your home.
Consider hiring a professional stager to help you with room layout. Your Realtor can also be a great resource and will have many helpful staging ideas if hiring a stager is not in your selling budget. Watch our On Real Estate video segments to learn more about home staging!
Have a question
about staging

?

By clicking "SUBMIT" above, I agree that TheMLSonline may call or text me at any telephone number (including a mobile telephone number) that I provide and may use an automated telephone dialing system or similar device, or a prerecorded message, to offer me products and services. Message and data rates may apply. I understand I may opt out of text messages at any time by replying "STOP". I agree that TheMLSonline may call or text me even if my telephone number is listed on the national and/or state do-not-call registry. I understand that I am not required to provide consent as a condition of receiving or purchasing goods or services from TheMLSonline. I also agree to TheMLSonline

Terms of Use

&

Privacy Policy

.

TheMLSonline website contains advertisements and endorsements of affiliated industry service providers including: mortgage lenders, staging services, home inspectors, title companies and moving services. TheMLSonline may receive compensation as a result of these advertising and marketing agreements. As a client of TheMLSonline you have the right to select a service provider of your choosing and are not required to seek the assistance from any advertiser or affiliate of TheMLSonline.
Thank You
Your request has been received! Someone will contact you soon.
Local Staging Resource